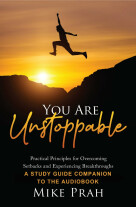 Book Description: You Are Unstoppable: A Study Guide Companion to the Audiobook (Paperback)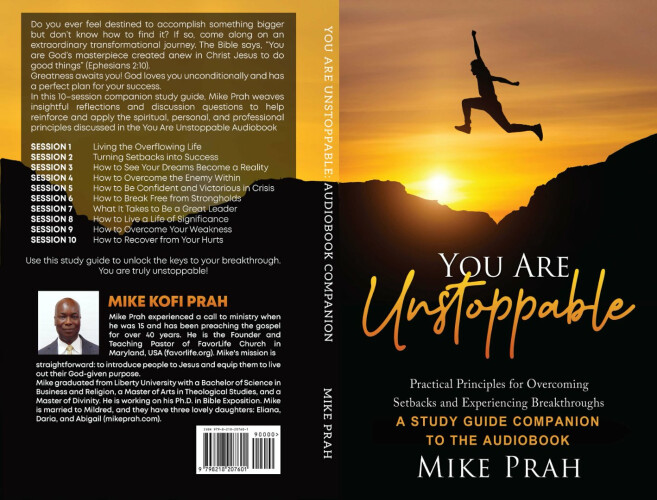 BOOK SUMMARY
Do you feel like you're meant for more but don't know how? If so, join a life-changing journey. God loves you unconditionally and has a perfect success plan. Mike Prah uses insightful reflections and discussion questions in this 10-session companion study guide to reinforce and apply the spiritual, personal, and professional principles from the You Are Unstoppable Audiobook (Audiobook Available at Amazon Audible, Apple Books, Google Play Books, Barnes & Noble, Spotify, Audiobooks.com).
SESSION 1—Living the Overflowing Life
SESSION 2—Turning Setbacks into Success
SESSION 3—How to See Your Dreams Become a Reality
SESSION 4—How to Overcome the Enemy Within
SESSION 5—How to Be Confident and Victorious in Crisis
SESSION 6—How to Break Free from Strongholds
SESSION 7— What It Takes to Be a Great Leader
SESSION 8—How to Live a Life of Significance
SESSION 9—How to Overcome Your Weakness
SESSION 10—How to Recover from Your Hurts
Use this study guide to unlock the keys to your breakthrough. You are truly unstoppable!
WHERE TO BUY E-BOOK & PAPERBACK
YOU ARE UNSTOPPABLE: STUDY GUIDE COMPANION TO AUDIOBOOK Paperback is available at this website
Or at the following Popular Online Bookstores, for example:
Amazon | Barnes and Nobles | Walmart.com | Books-A-Million | Blackwells | and many more
Thousands of bookstores around the world will be able to supply this book. Simply search the author's name: Mike Prah, on their website or give the author's name or book name to your Book Store Agent. Thank you.
YOU ARE UNSTOPPABLE: STUDY GUIDE COMPANION TO AUDIOBOOK E-book is available at:
Amazon | Barnes and Nobles | Apple Books | Google Play Books | Books-A-Million | and many more
YOU ARE UNSTOPPABLE: Principles for Overcoming Setbacks and Experiencing Breakthroughs AudioBook is available at:
Amazon - Audible / Axiell / Baker & Taylor / Bibliotheca / Bidi / EBSCO / Follett / hoopla / MLOL / Odilo / Overdrive / Ulverscroft / Wheelers / 24symbols / Anyplay / Apple / Audiobooks.com / AudiobooksNow / BajaLibros / BAM / Beek / BingeBooks / Bokus Play / Bookmate / Chirp / Cliq / Downpour / eStories / Google Play / Instaread / Kobo.com - Walmart / Leamos / Libro.FM / Milkbox / My Audiobook Library / Nextory / NOOK Audiobooks / Radish / Scribd / Spotify / Storytel / TuneIn / Ubook / 3Leaf Group