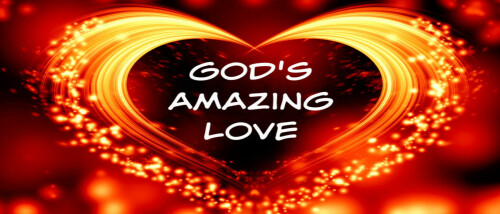 Tap/click below to listen as you read this uplifting message
Hello, my friend, this is Mike Prah with a brief reflection and prayer about God's Amazing Love For You!
GOD IS LOVE! God's love is patient. His love is kind. His love is forgiving. It is self-sacrificing. It protects. It gives generously. It is the greatest love of all.
The movie, the Beauty and the Beast, is the story of one ugly guy. This beast has a terrible voice and a terrible personality. He is a nobody. But then there is the Beauty, and you probably know the story. All the beast needed was someone to love him. And as the story would have it, as soon as someone loved him, he wasn't a beast anymore. He was transformed into a Prince. That is an example of the love of God.
God's love lights up the darkness and gives hope to the hopeless. God's love saves lives and transforms lives.
Here are some expressions of God's amazing love in the Bible:
"Give thanks to the Lord, for He is good! His faithful LOVE endures forever" Psalm 107:1, NLT
"This is how God LOVED the world: He gave His one and only Son so that everyone who believes in Him will not perish but have eternal life" John 3:16, NLT
"God showed His great LOVE for us by sending Christ to die for us while we were still sinners" Romans 5:8, NLT
"Overwhelming victory is ours through Christ, who LOVED us. And I am convinced that nothing can ever separate us from God's LOVE. Neither death nor life, neither angels nor demons, neither our fears for today or our worries about tomorrow—not even the powers of hell—indeed, nothing in all creation will ever be able to separate us from the LOVE of God that is revealed in Christ Jesus our Lord" Romans 8:37-39, NLT
"My old self has been crucified with Christ. It is no longer I who live, but Christ lives in me. So I live in this earthly body by trusting in the Son of God, who LOVED me and gave Himself for me" Galatians 2:20, NLT
"Give thanks to the God of heaven. His faithful LOVE endures forever" Psalm 136:26, NLT
Let me share a brief prayer with you, my friend:
Father God, thank You for Your enduring, undying love for us. Thank You for loving us so much that You sent your Son, Jesus Christ, to die in our place, so that we can have a relationship with You.
I pray that would help your people to rely and experience the fullness of your rich love that is beyond human understanding. Help them, Lord, to love themselves and to love others as You have loved us, even those who are hardest to love.
Oh God, bless your people with Your indescribable love and help them to live with gratitude because of Your amazing love, in Jesus' Name, Amen!
God bless you!